Solage Luxury Resort Renovation
A 40-seat courtyard was built for year-round outdoor dining, quintessential to the Napa Valley experience. The Spa Solage refresh entailed the redesign and 2,700sf expansion to the existing building, which included a grand location room and new locker rooms. The entire refresh features warm tones echoing the palette of the Napa countryside. All work was performed during a fully booked and operating resort.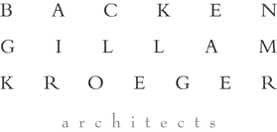 Backen, Gillam, & Kroeger
Architect
Backen, Gillam & Kroeger Architects is an award winning architectural design firm formed in 1996.